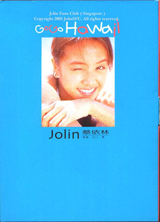 Product Information: Go Go Hawaii
Release Date: 1/5/2000
Publisher: Other
Other Information: Sticker, Postcard, diary, map, small poster, bookmark
Product Highlight
Gogo Hawaii is Jolin's 1st and only gift box. Inside contains many stickers, postcards, a photo diary, bookmarks, posters, map and a graduate book. It also includes a special present from Jolin.There are also photos of her trip to Hawaii.

---